The Yearly Salary for a Makeup Artist
by Forest Time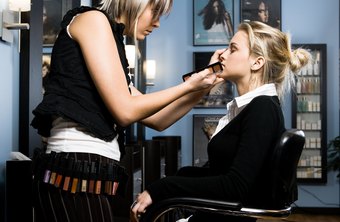 While the occupation of makeup artist is only practiced by a handful of people, it can certainly lead to one of the most lucrative careers for candidates with training in cosmetology. As of 2011, the Bureau of Labor Statistics estimates that only 2,040 makeup artists were working in the United States.
Average Annual Salary
According to the BLS, makeup artists working in the United States earned an average annual salary of nearly $64,000 and average hourly wages of about $30.50 as of 2011. However, BLS statistics indicate a wide pay scale for this occupation. While half of all makeup artists reported yearly incomes of between $27,000 and $89,000, the lowest paid 10 percent of makeup artists earned less than $20,500 per year, while the highest 10 percent of makeup artists earned more than $120,000 per year.
Salary by Industry
As of 2011, nearly half of all makeup artists found employment in the motion picture and video industries. Those working in movies also tended to earn the most, averaging more than $88,000 per year. Makeup artists working in theater and other performing arts earned annual salaries very close to the national average for this occupation, about $61,000 per year. Nearly 100 makeup artists worked for amusement parks and averaged nearly $41,000 per year.
Geographical Pay Variations
Jobs for makeup artists tend to be concentrated in urban areas, and those working in the area surrounding New York City and White Plains, New York, and Wayne, New Jersey, earned the highest average salary in the nation — close to $100,000. Unsurprisingly, New York also reported the highest salary for makeup artists by state, an average of $93,500 per year. Driven by the motion picture industry, the second highest average salary for makeup artists as of 2011, $73,000 per year, was reported in California.
Job Outlook
The Bureau of Labor Statistics expects employment of makeup artists to grow at a very slow rate of just 3 percent over the coming decade and expects around 100 additional jobs to be available by 2020. Accounting for retirement or turnover among existing makeup artists, the BLS predicts a total of only 800 job openings in this profession between 2010 and 2020. Given this slow growth rate and the popularity of the movie industry, competition for makeup artist positions is expected to be extremely fierce.