The Average Pay for a Mortuary Makeup Artist
by Dana Severson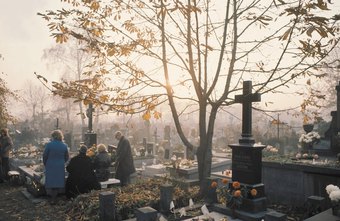 Cosmetology isn't all about weddings, makeovers and skincare. Many cosmetologists branch out into other areas in this ever-widening field, and some even find their way into the offices of local physicians. But one of the top paying industries for cosmetologists and makeup artists is in the mortuary sciences — ranking fourth in the nation.
Salary Overview
In 2011, the average cosmetologist earned $26,460 a year, according to the Bureau of Labor Statistics. But cosmetologists working in death care services can often expect higher salaries. In fact, the average income of a mortuary makeup artist was almost $34,000 annually — over $7,500 more a year than the occupation as a whole.
Hourly Rates
Not all mortuary makeup artists earn an annual salary. Instead, they're given an hourly rate for their services. The BLS estimates that half of all cosmetologists working in death care services earned less than $13.82 an hour. If, for example, you put in about 20 hours a week, you're looking at an annual income of $14,373.The average hourly salary, however, was closer to $16.31 an hour. At 20 hours a week, your annual income increases to $16,962.
Other Income
In addition to your base pay, you may be eligible for bonuses. It isn't uncommon for the bereaved family to tip the presiding official. This can range anywhere from $50 to $300 for the funeral service, according to FOX Business. The funeral home may then allot a certain portion of this money to staff, including the makeup artist. The gratuity may also be part of the itemized bill. It varies from one funeral home to the next.
Job Outlook
Through 2020, cosmetologists as whole can expect an employment growth of 14 percent over 2010. This is right on par with the national average. However, mortuary cosmetology is a fairly small field, estimated at 230 full-time positions in the nation. So, this works out to the creation of roughly 32 new jobs in death care services. That being said, you could find part-time or freelance opportunities in your area.